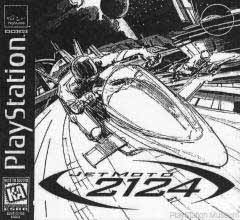 Jet Moto 2124, was being developed by Pacific Coast Power & Light and was set to be based in the future. Production on the game began prior to the completion of Jet Moto 3. Level designers used Alias Power Animator 8.5 to create tracks for the game. Developers took inspiration from Syd Mead when coming up with concepts and designs for the game. Jet Moto 2124 would be the first in the series to take the player to locations off Earth, including Mars, the moon and one of Jupiter's moons, Europa. Additional real-world sponsors had been solicited for in-game sponsoring, including Doritos, Slim Jim, and Body Glove. The game was to have redesigned physics and increased speed, giving 2124 "the 'Jet Moto' feel but with 'Wipeout' speed." Inspiration was also taken from freestyle motocross, and the ability would have been given to the player to do in air-tricks such as the heel clicker and can-can, similar to modern day tricks performed on specialized dirtbikes.
Developers cited lack of marketing support, camera issues and a flawed physics model for the jet motos as a few of the main concerns with the game's development. Other concerns included a new company president that did not support the game, and the studio director seeking to widen all the tracks, causing a significant increase in development time. These, along with lackluster sales of Jet Moto 3 caused the game to be cancelled two years into production, just prior to beta testing.
However, a fan community called Jet Moto Central has found the game and made it avaiable as an ISO for everyone on their web site.  It was Aaron that contacted Mr. Christopher Tritt in March of 2010 and asked him a couple of questions.  Mr. Tritt then send Aaron a copy of the game with the game's soundtrack and art.  He then tried to convert it to an ISO without success due to the fact he was on an old crappy computer.  3 years later, in November of 2013, he sent the Jet Moto 2124 CD to mcniggleston, another member of JMC.  He then spent hours of cracking the game to finally make a working ISO.  He then gave it to Adonael and they both tested the game to figure out what worked and didn't work.  A member called Enigma then got the game and did further testing finding out usefull stuff like the complete trick list and some unused art in the game's files.  He then got contacted by Aaron and after a bit of talking and convincing the other members he released the game on this thread with all the information needed to play the game.